Hello my Doodle Pantry friends! It is time for Doodle Pantry's July Release!!!! I chose Happy Trails Camper for my card and here it is:
(A2; Digital stamp set: Doodle Pantry (Happy Trails Camper); Ribbon: Really Reasonable Ribbon)
All of the DSP on this card, the image and the sentiment are from the Happy Trails Camper set. I used the pre-colored image this time to save a little time. I got my inspiration for the design from Sandy Allnock who makes the most awesome cards!
I hope you enjoyed my card! Be sure to click here to see all of the new releases for this month!
Now for the really good stuff! Doodle Pantry is having a sale from July 1 – July 8 ONLY! Here's the scoop: 30% OFF entire store! (excludes gift certificates AND bundles) ($2.00 minimum)
COUPON: HAPPY4TH
ALSO, if you purchase between the following dates, you will get Happy Trails Camper FREE with your purchase!!!! How adorable is this?
FREE WITH PURCHASE July 3 – July 24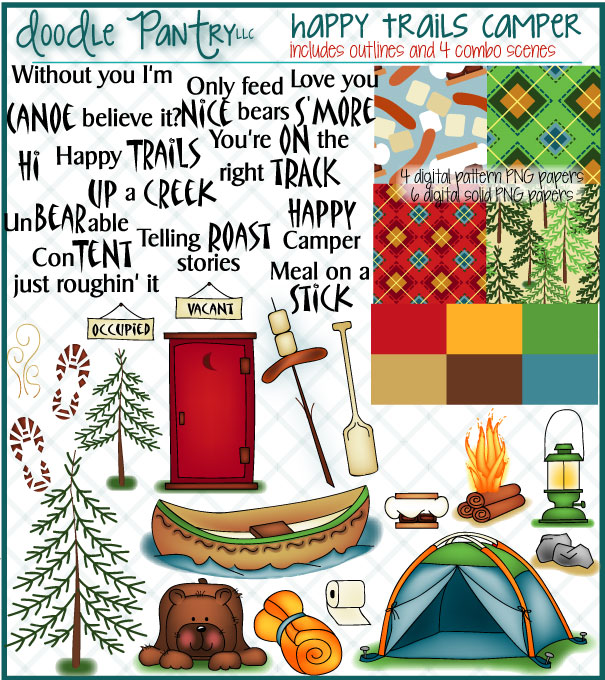 Now, here is the scoop on DPDC48.
OOPS! You have to check back at NOON for DPDC48. I have another card for you for the challenge!
Thanks so much for stopping by to see what is going on at the Doodle Pantry. After leaving a comment here for me, please check out all of the awesome inspiration from our wonderfully creative Design Team!
Happy Crafting!