Hi my blogging friends! Happy Monday! I am popping in with a really quick post to share my Operation Write Home cards.
First up is my AnyHero for this week:
(A2: Stamps: Verve (American Hero); DSP: Heidi Swapp (Favorite Things))
OK, I keep saying I am not buying any more DSP until I use up what I have, but I saw this 6x6 pad and just HAD to have it LOL. Oh, did I say it was on sale? How can a girl resist! I really love the colors and patterns and decided to use this for a summer AnyHero card.
(A2; Stamps: Doodle Pantry (Cheeseburger Ants COLOR plus)
Next up is a summer card. I already had everything printed and ready to make a card, but have not had time to make it. So, I decided today was a good time so I can get it in this next box and beat the deadline for summer cards.
Thanks for stopping by!
Here is a link to the challenge so you can join in the fun!

---
Now for the really good stuff! Doodle Pantry is having a sale from July 1 – July 8 ONLY! Here's the scoop: 30% OFF entire store! (excludes gift certificates AND bundles) ($2.00 minimum)
COUPON: HAPPY4TH
ALSO, if you purchase between the following dates, you will get Happy Trails Camper FREE with your purchase!!!! How adorable is this?
FREE WITH PURCHASE July 3 – July 24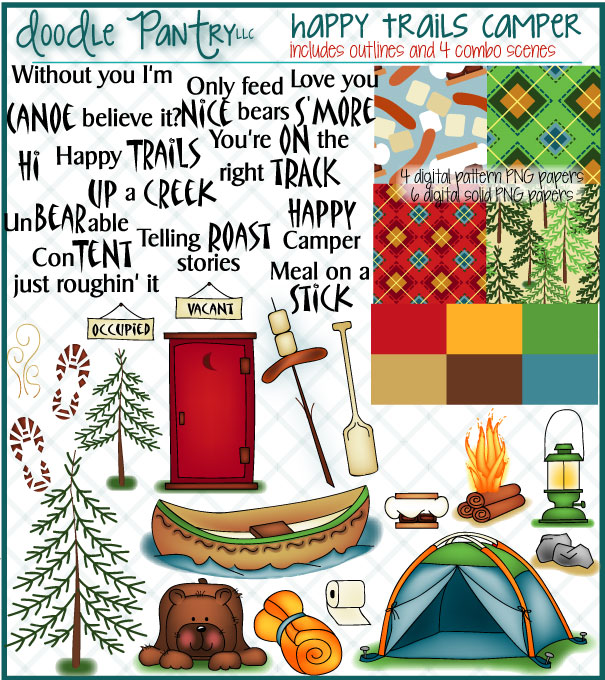 Now, here is the scoop on DPDC48.
There is NO featured product for the DPDC48,however, there will be THREE random winners selected from all entries on July 25!

We will have a choice THEME of "Make it Splash"OR "Make it Christmas"

you can use ANY company digital image on your entry. (But we sure do LOVE it when you use Doodle Pantry images!)
Happy Crafting!!!