Hello my Doodle Pantry friends! This week, DP is sponsoring the sketch challenge at Digi Sketch! Here is a bit of inspiration to get you started!
(A2; Digital stamp set: Doodle Pantry (Strawberry Ants); Die: Spellbinders; EF: Darice)
I decided to go with hot colors for this card. Along with the sketch, Digi Sketch has the theme "In the Garden" and July in the garden is HOT! To get t he red for the image, I digitally chose the red in the DSP and filled a new image. I then added the image. The yellow paper is dry embossed with my new purchase
. Some stitching and enamel dots finish off this card. Now, are you ready to play? Be sure to go to Digi Sketch and show us what you make!
HURRY!!!!! Doodle Pantry is having a sale from July 1 – July 8 ONLY! Here's the scoop: 30% OFF entire store! (excludes gift certificates AND bundles) ($2.00 minimum)
COUPON: HAPPY4TH
ALSO, if you purchase between the following dates, you will get Happy Trails Camper FREE with your purchase!!!! How adorable is this?
FREE WITH PURCHASE July 3 – July 24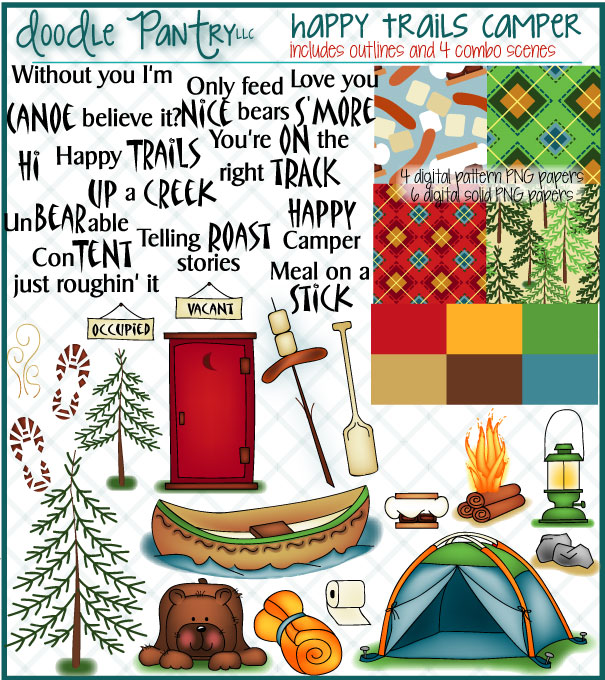 Now, here is the scoop on DPDC48.
There is NO featured product for the DPDC48,however, there will be THREE random winners selected from all entries on July 25!

We will have a choice THEME of "Make it Splash"OR "Make it Christmas"

you can use ANY company digital image on your entry. (But we sure do LOVE it when you use Doodle Pantry images!)
Thanks so much for stopping by to see what is going on at the Doodle Pantry. After leaving a comment here for me, please check out all of the awesome inspiration from our wonderfully creative Design Team!
Happy Crafting!