I have been so fortunate to make a lot of friends on the internet. I am so thankful for each and everyone of you, but I have one friend who is going through a really tough time, so this card is for her.
I don't know if you can tell from the picture, but I printed the Doodle Pantry Autumn Star twice and used one to cut out the small star, ribbon and some leaves to pop up and give dimension to the card. The sentiment is from two sources, "for my friend" is from the Autumn Star set and "Thankful" is a free digi download from Paper Smooches. I really wanted to play in their challenge, but one of their stamps is required. I hope this will qualify!
This is also my "clean and casual" look that I have been working on. I did use layers to give contrast and used a Martha Stewart punch on the small panel base. The bottom half of the white base is embossed with a Cuttlebug folder. The ribbon is from RRR and I just LOVE it! I have almost used all of that orange!
Thank you so much for stopping by! I always love to see that you have visited with me for a few minutes.
Link to challenges:
Paper Smooches November 12-18 Designer Drafts Challenge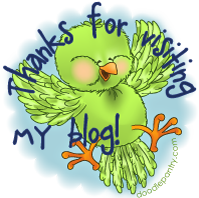 hugs,