****If you missed my first post today, you can click here to go straight to it. Or, you can scroll down after seeing this one! ****
Happy Saturday! Today was absolutely gorgeous here in North Carolina; a little cool but so sunny and pretty. It was a great day for taking short walks and getting fresh air.
I have been making birthday cards for deployed soldiers, and so far all have been masculine. I made this one and decided it either needs to be for a child or female so I am going to send it to Operation Write Home for a soldier to send back home.
This week is ANYTHING GOES at Pampered Pooch so I am submitting this card for the challenge. I find myself moving to cleaner designs lately, and this is just another example of it. I am having trouble getting to actual CAS, but I believe this is part of the evolution LOL. I stamped the little zebra (who I absolutely adore!) and masked him to create the foliage background. I cut the Spellbinder and used the negative space to frame the image and then make a matching SB frame in green. The bottom is an embossing folder with some old ric-rak that has been in my stash for a while.
Thanks for stopping by!
CHALLENGE LINK: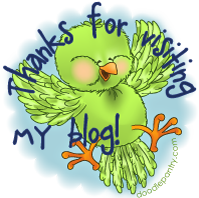 hugs,