Do you like freebies? I know I do, so when Doodle Pantry added a bunch of new freebies I got excited! There are eight (8) new sets under the Freebies tab. Some are free with purchase and some are free for a limited time.
This card is made using the new Soup & Tissue set which is FREE FOR A LIMITED TIME (Free through Feb. 14). After being sick for a month, I knew I just had to play with this set!
I used the CAS(e) This Sketch for this card. The band of paper, the image and sentiment all came from the Soup & Tissue set. The tissues and soup are separate images, but I combined them and the sentiment so I could print them as one image. I used a SB to cut the image out and then used my craft knife to cut a slit along the tissue line. I took a small piece of tissue, pulled it through the slit and secured it with tape. I used a Martha Stewart border punch on the DSP from the set and threaded some red ribbon through it.
Thanks so much for stopping by. I will be sharing another card that uses another new Doodle Pantry FREEBIE! So if you are like me and you love getting freebies, hop over to the freebies section at Doodle Pantry and see what is new!
CHALLENGE LINK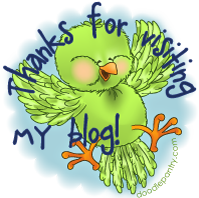 hugs,