Hello my Doodle Pantry friends! Doodle Pantry is sponsoring the challenge at Creative Knockouts! I'm sure you will want to go over and play in the challenge, but first I have a little inspiration for you. The challenge is Thankful and I chose to use Doodle Pantry's just released AUTUMN SONG BIRDIES set.
(A2; Digital stamp set: Doodle Pantry (AUTUMN SONG BIRDIES); Ribbon: Really Reasonable Ribbon; Die: Spellbinders)
I love this time of year because we take more time to be thankful for the things we have, the things we have done, the people who are important to us, our health and so much more! This year, especially this last couple of months have been more difficult, but I am so thankful for all that God has blessed me with and know that through His strength, we will make it through this and all will be OK. So I am especially thankful because I know my daughter's condition could be much worse.
Now for the card! I used one of the solid digi papers from the set and merged the image and sentiment onto it. I cut an oval frame and placed it around the sentiment.
Now it is your turn! Get over to Creative Knockouts and show us what you create! Use a Doodle Pantry image and enter it in the Doodle Pantry Challenge for a second chance to win. Plus you will get the Featured Product (below)!
I hope you enjoyed my card! Be sure to click here to see all of the new releases for this month and join us for DPDC51!
---
FREE WITH PURCHASE October 1 – October 24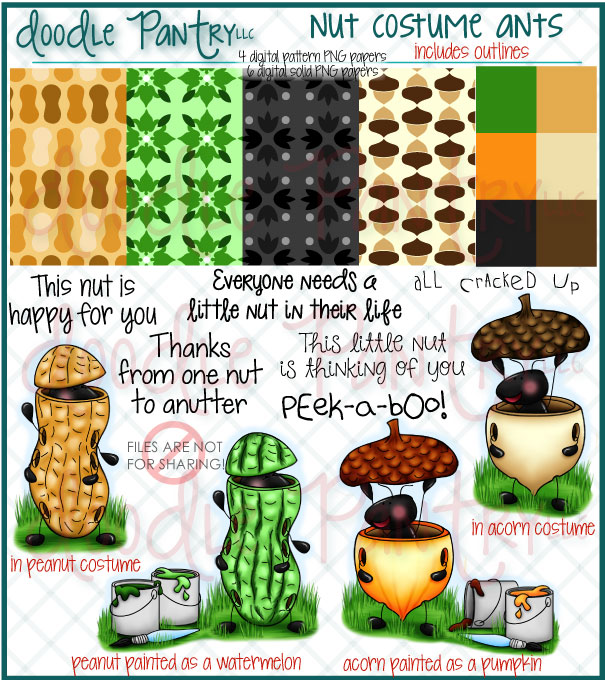 October FEATURED PRODUCT – DPDC51: Link up a project using a Doodle Pantry illustration, that also follows the challenge rules, and you get emailed this for free!
---
Thanks so much for stopping by to see what is going on at the Doodle Pantry. After leaving a comment here for me, please check out all of the awesome inspiration from our wonderfully creative Design Team!
Happy Crafting!