Hello my Doodle Pantry friends! Doodle Pantry is sponsoring the challenge at Tuesday Morning Sketches! I'm sure you will want to go over and play in the challenge, but first I have a little inspiration for you. The challenge is of course a sketch and I have included it below. I chose to use Doodle Pantry's Chubby Chickadee set.
(A2; Digital stamp set: Doodle Pantry (Chubby Chickadee)
I love coloring with my Copics, but sometimes I get in a hurry and need to make a card quickly. That's when I LOVE to use Doodle Pantry's precolored images! I merged the chickadee and the sentiment onto the blue digital paper. Next, I printed everything, matted with black, added a strip of lace and layered up a flower. I mounted all of that on a black card base with a white insert.
Now it is your turn! Get over to Tuesday Morning Sketches and show us what you create! Use a Doodle Pantry image and enter it in the Doodle Pantry Challenge for a second chance to win. Plus you will get the Featured Product (below)!
I hope you enjoyed my card! Be sure to click here to see all of the new releases for this month and join us for DPDC51!
---
FREE WITH PURCHASE October 1 – October 24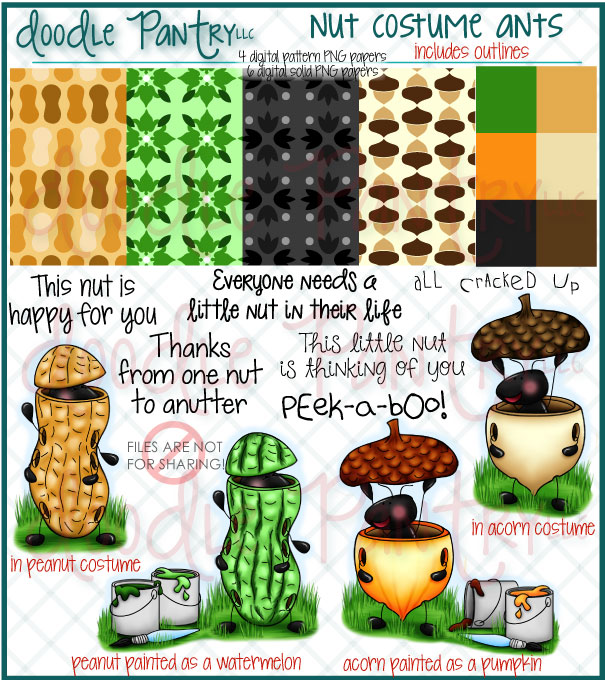 October FEATURED PRODUCT – DPDC51: Link up a project using a Doodle Pantry illustration, that also follows the challenge rules, and you get emailed this for free!
---
Thanks so much for stopping by to see what is going on at the Doodle Pantry. After leaving a comment here for me, please check out all of the awesome inspiration from our wonderfully creative Design Team!
Happy Crafting!