Hello my Doodle Pantry friends! Doodle Pantry is sponsoring the challenge at Tuesday Morning Sketches today! It is a sketch challenge, plus Bingo! I'm sure you will want to go over and play in the challenge, but first I have a little inspiration for you.




(A2; Digital stamp set: Doodle Pantry (Yummy Cupcake); Ribbon: Really Reasonable Ribbon; Flower: Inspired by Stamping: EF: Sizzix; Die: Spellbinders)

I don't know what it is, but I have always been a sucker for cupcakes! I would rather have a cupcake than a slice of cake!
For this card, I chose "ribbon/embossing/flower from the bingo card. I printed the cupcake twice then colored the cupcake holder on one and colored the cherries on the other.
Somewhere I saw someone use embossing paste as cake icing, so I wanted to give it a try on this card! I used a little Distress Stain to color the paste and added it where the frosting would be. I pushed some little beads into the paste to resemble sprinkles, and after fussy cutting the cherries, I attached them with foam dots.
I dry embossed the red digi paper and cut it for the top and bottom strips, then used the same paper for matting.

Now it is your turn! Get over to Tuesday Morning Sketches and show us what you create! Here is the sketch: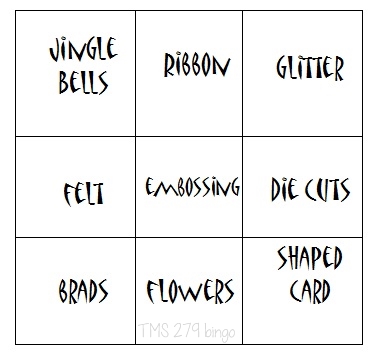 I hope you enjoyed my card!Thanks so much for stopping by to see what is going on at the Doodle Pantry. After leaving a comment here for me, please check out all of the awesome inspiration from our wonderfully creative Design Team!

Happy Crafting!